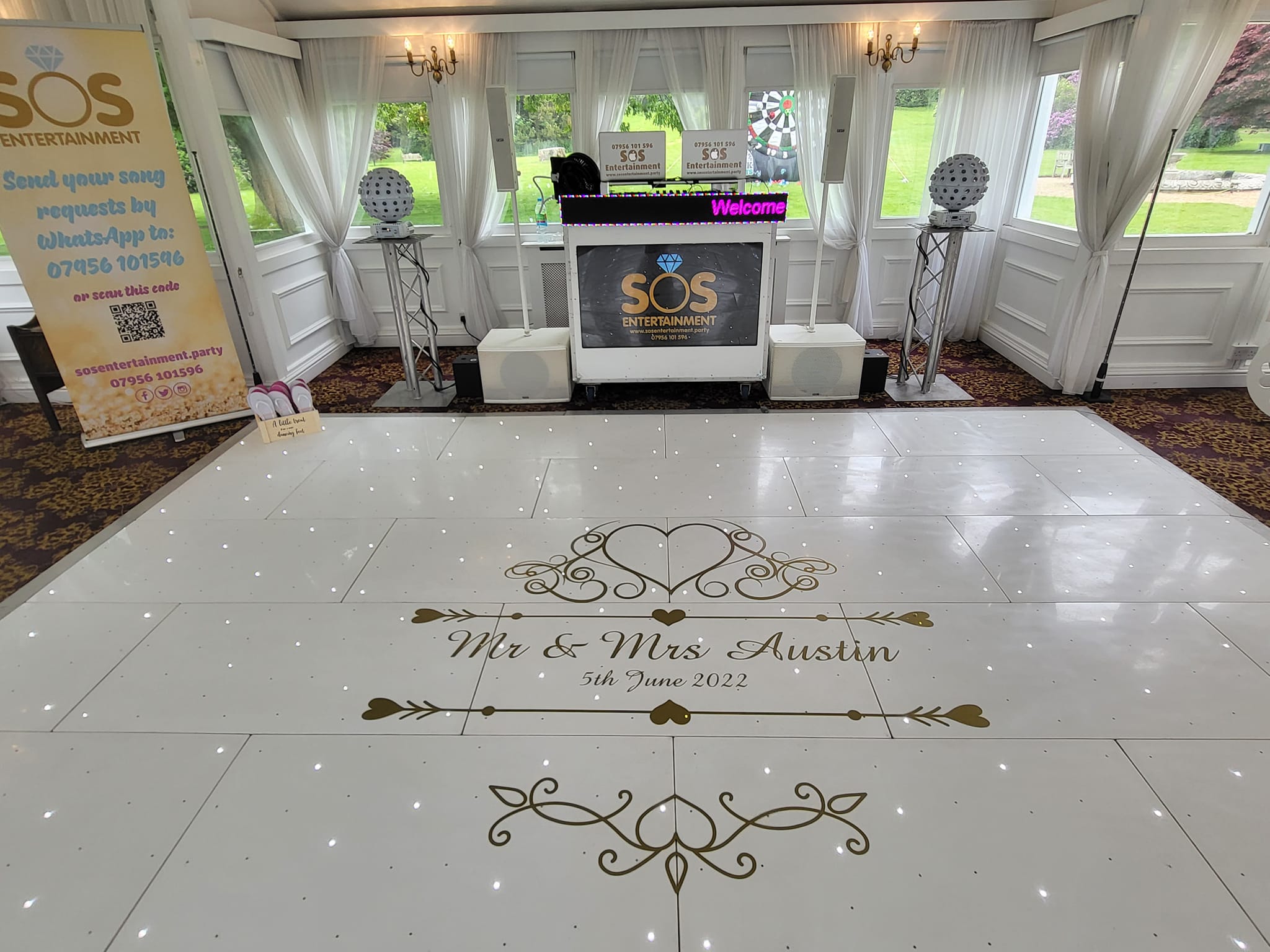 #10 Reasons to Say Yay to a Digital Display DJ for your Wedding Day
You already know that Sean's the perfect DJ for weddings, that's why you're here! But did you know, hiring Sean brings you far more than 'just' a wedding DJ?

You also get a multi-talented industry expert who's passionate about making your day perfect. He's also regularly takes part in The Wedding Industry Awards, so you can be sure he's attentive to what his happy couples need. 
And you'll also have a DJ with a range of DJ booth LED screen options for fantastic digital display on your wedding day! be personalised to your exact requirements. The wedding DJ booth offers a digital display for photos, messages, memories, and many options that suit your needs.
DJ BOOTH LED SCREEN OPTIONS AND BENEFITS
The SOS Entertainment DJ booths come in various shapes, sizes and options to fit your venue and suit your budget. There's a gallery of options available to view here.
Each DJ booth LED screen options means Sean can deliver a stunning wedding digital display. This option is a perfect way to give your guests an exciting visual experience, and helps ensure the reception is as memorable for them as it will be for you.

What's more, Sean can work with you to ensure elements are personalised to your exact requirements, to include a digital display for photos, messages, memories … and much more!
DIGITAL DISPLAY IDEAS FOR YOUR WEDDING DAY
There are many ways a wedding digital display can be used to bring you the most value from your DJ and the best memories from your celebration. Sean is always happy to chat through your exact requirements or make suggestions, but here are some ideas to get you thinking about the possibilities:
Of course, the pyrotechnics and all digital displays can be personalised to your exact requirements.

At SOS Entertainment, Sean knows that your wedding day is your special day and he loves doing his bit (and more) to ensure your day is outstanding.

And do you know what else? Everything in this post is also true for engagement and anniversary parties too! So if you have a different kind of romantic celebration coming up, a digital display wedding package could bring a perfect party to you too.
The brand new Mr and Mrs. Day loved their set up too …
feel inspired?
Give Sean a call about bringing your ideas to life and make your upcoming celebration magical, memorable and personal.