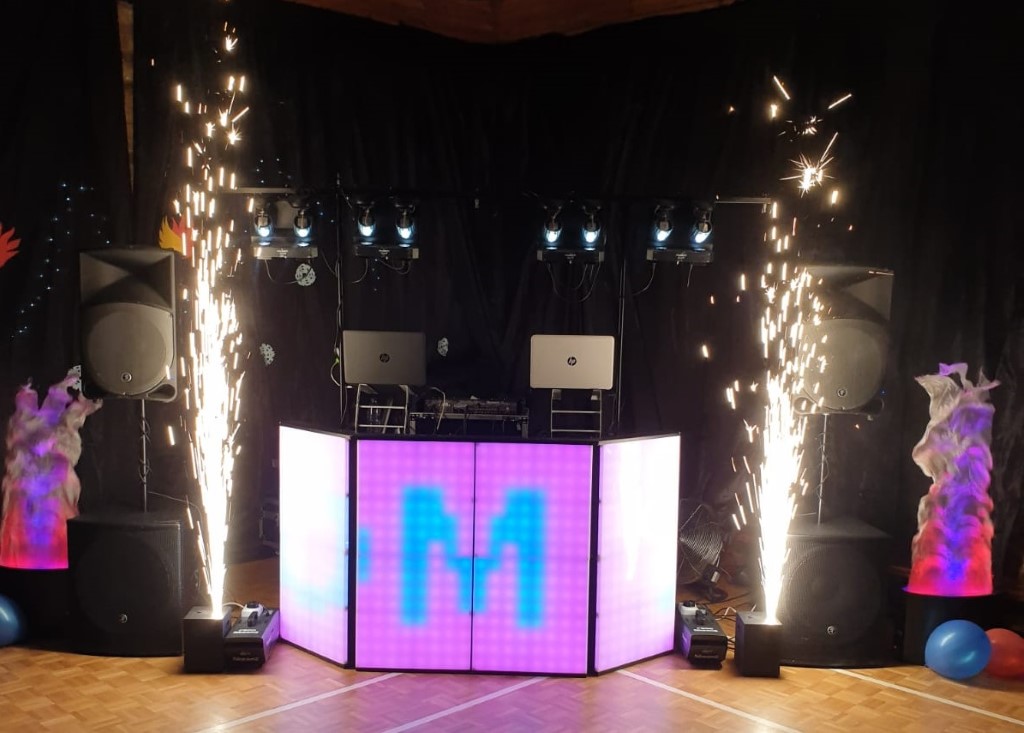 Add sparkle to your party with our DJ Pyrotechnics
'Tis the season for indoor parties and spectacular displays! But, DJs are seeing a subtle shift away from the intrusive, explosive and non-environmentally friendly ideas of pyrotechnic displays.
Instead, more of our customers are asking us about other ways to add sparkle to their entertainment. And of course, adding a bit of drama to their celebrations in a safe, clean and friendly way is also a popular request.  
So, as Sean's always happy to help, he uses the Sparkular stage pyrotechnics system! 
SAFE SPARKLES? NON-FLAMMABLE 'FIREWORKS' - REALLY?
BENEFITS OF safe indoor DJ PYROTECHNICS
But it's not just all about the magic Sean mentions! In fact, DJ booth pyrotechnics displays have plenty of other benefits too … 
For obvious safety and insurance reasons, many venues don't permit any kind of flammables. However, DJ pyrotechnics are often allowed an alternative, safe way to add atmosphere to your party.
With no explosives involved, noise level of these pyrotechnics is very low. This is ideal for keeping everyone's attention focused on the display, the music and the celebratory moment. 
Sparkular systems undergo extreme safety testing and, with low smoke and odour, there's a minimal safety distance. This is ideal because it means the dance-floor can stay in action during the display! Add Sean's LED dance-floor into the set up and these will complement each other beautifully for adding wonder to a wonderful moment.
There's a digital aspect to the display too. Sean can vary the height and density of any sequence. He can also choreograph the timings, perfect for adding atmosphere and the wow factor to a special party moment, such as that first dance at a wedding …
Pyrotechnics for all parties
DJ pyrotechnics can be added to any of Sean's DJ hire services and party / wedding packages. In fact, pyrotechnics are already included in the price of the PLATINUM and DIAMOND wedding packages!
And don't forget, you don't have to be planning a wedding to access those package prices! With the festive season around the corner, Sean's party packages are perfect for any seasonal party. How about pyrotechnics to add atmosphere, sparkle and a real sense of celebration – whatever your party?
We're currently working on new photos of our latest 2 and 4 screen DJ set ups with the pyrotechnics in full flow, so do pop back or ask for more videos of Sean's wonderful DJ pyrotechnics in action!
WANT PARTY ENTERTAINMENT FOR YOUR NEXT EVENT?
From Christmas parties, to family celebrations, award dos and wedding receptions, SOS Entertainment can provide you with awesome atmosphere, a dance-all-night-DJ and perfect pyrotechnics!