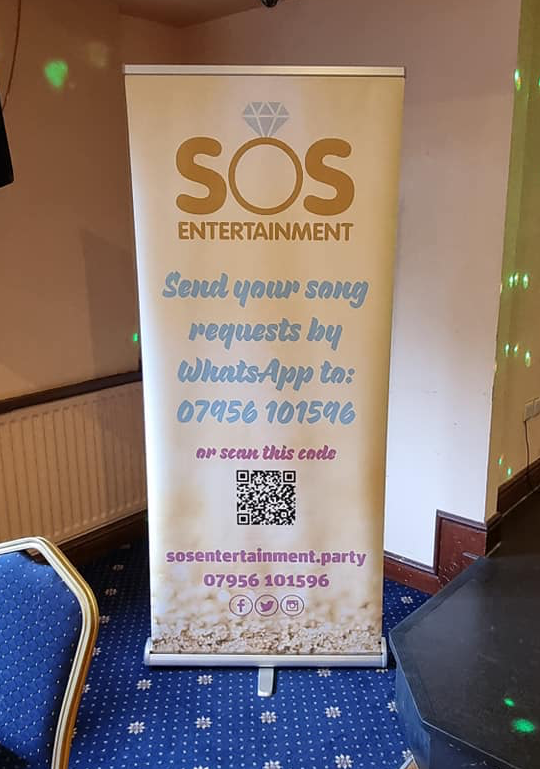 HEY DJ! Can You Play …? Yup, just text it through!
Regular readers and customers responded very positively to Sean's recent blog about new ways to place a DJ song request, thanks to the Request Box app. 
But did you know, if you're a party guest who isn't into apps, you can also easily place a request at any of Sean's parties.
Yes, no need to leave your friends / the dance floor / your drinking buddies at the bar (delete as appropriate) as you can just text through your request from your phone – all thanks to Sean's pop-up request sign.
Sean always manages to find the perfect place where the sign can be popped up and visible, but without encroaching on the party and the event itself. And this way, guests have the number to text requests straight through to Sean.
Althernatively, there's a QR code on the sign which takes guests straight through to a request text page, where you can also add a dedication.
DJ SONG REQUEST AT YOUR FINGERTIPS
And it's not just the guests that seem to like it so much! Easy ways to make a DJ song request are also a big hit with our customers too, as they can be sure their guests are having the best time, allowing them to concentrate on their celebration, as the new Mrs. Mackay was keen to share in her feedback to Sean …
WANT PARTY ENTERTAINMENT FOR YOUR NEXT EVENT?
From Christmas parties, to family celebrations, award dos and wedding receptions, SOS Entertainment can provide you with any kind of party and the perfect playlist!