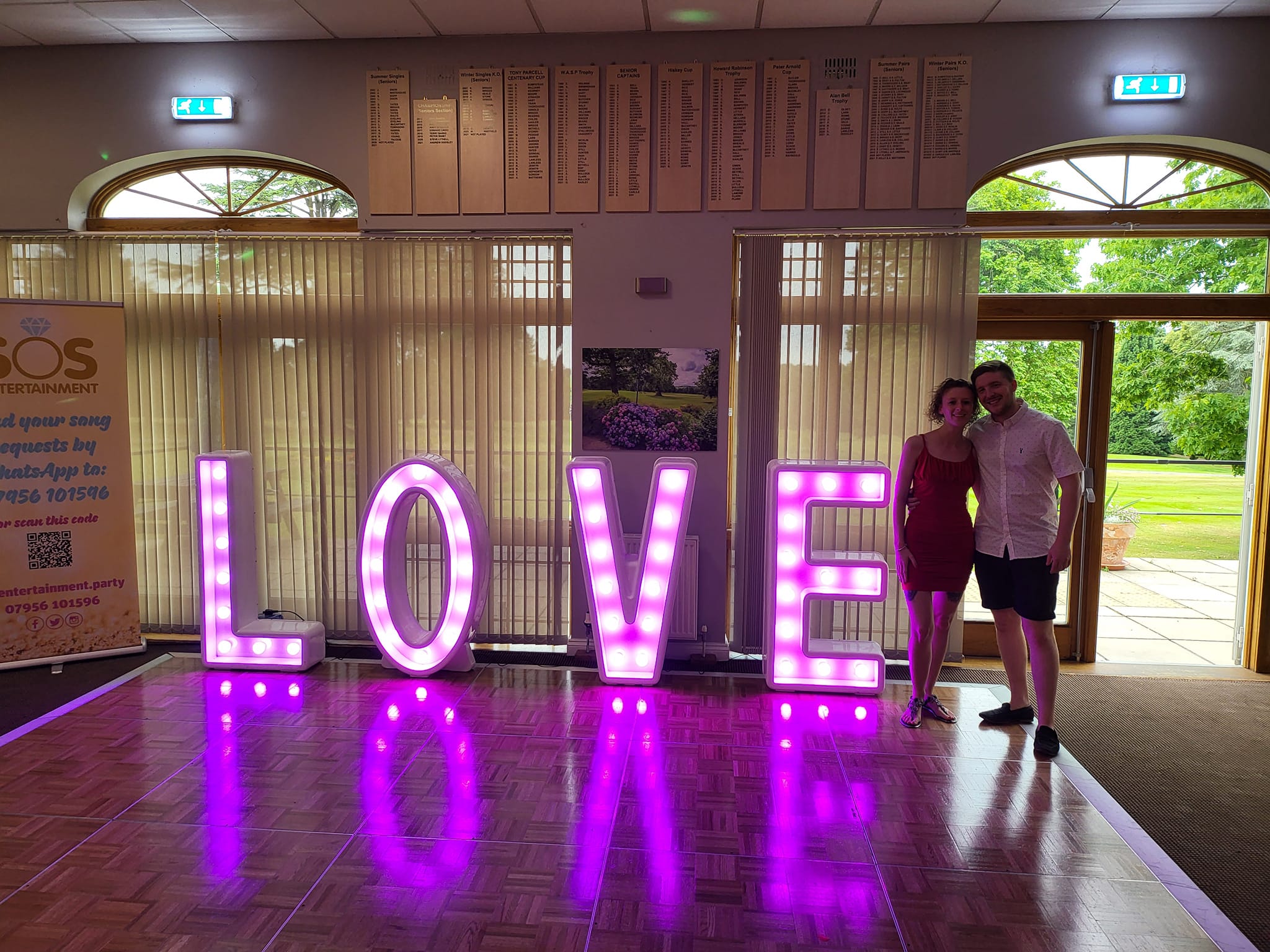 From Engagement Party to Wedding Entertainment, Say 'I Will' to Sean's Tips For Planning
It happened … you're engaged! What a moment! This may be quite surreal, be a total surprise or could even be something you've been waiting some time for? And now it's happened, the question's been popped and the moments, days and weeks which now follow are guaranteed to be a bit of a whirlwind!
There's lots to do, so many people to contact and much to get organised, but don't be overwhelmed – there's plenty of time to plan your wedding and the rest of your lives.
If you're like many newly engaged couples Sean's worked with, you'll naturally be wondering what things come next after the proposal – and in what order you should do them? Don't stress, and please don't worry, enjoy your engagement and feel glad you're in the right place for good advice when it comes to planning. Whether that's engagement party to wedding entertainment and celebration advice, or extra tips on choosing venues and finding professional wedding providers who actually talk to each other to help ease your planning pain!  
Planning a wedding is a timely process that's usually hugely underestimated, but you don't need to start planning every decision the second you say "yes" to your significant other.  Every couple's timeline is different and you'll have personal reasons for the schedule you set – whether it's a bit tight time-wise or whether there's a long time ahead for planning. 
Sean's commonly asked lots of questions about wedding planning by couples who hire SOS Entertainment for engagement party celebrations. He's happy to help with ideas and even special wedding discounts to help his engaged couples once that all-important proposal has happened.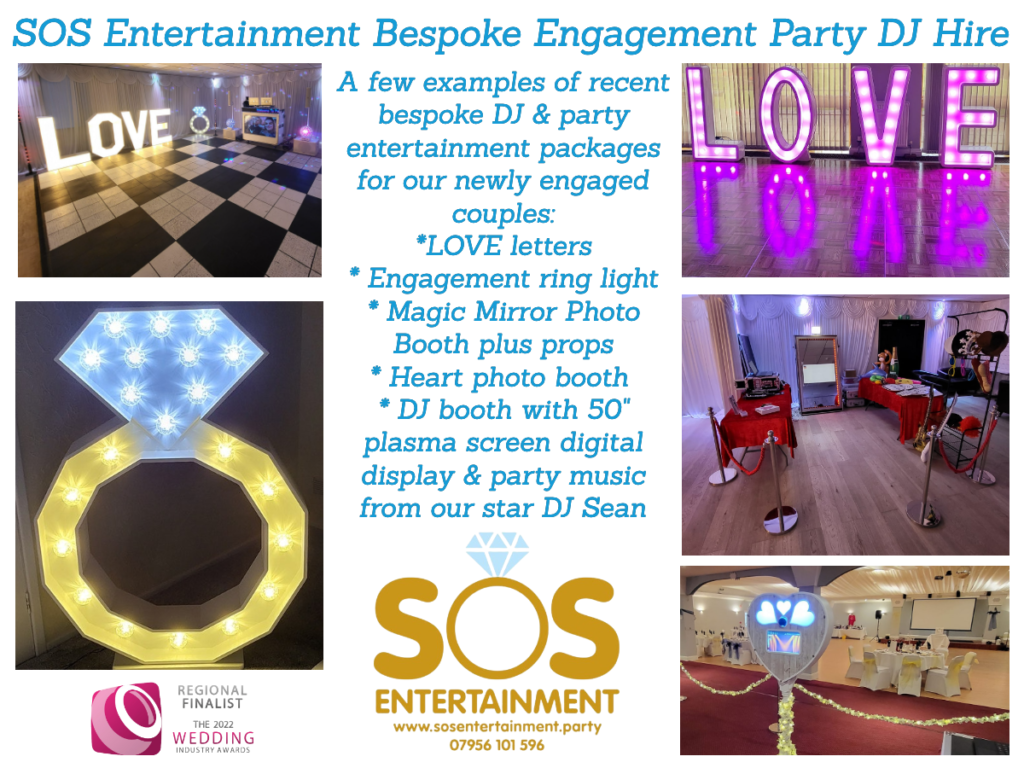 One of the first steps after you've got engaged is to share your happy news. Take as much, or as little time as you like! Some couples want to tell everyone as soon as possible and have the Instagram announcement posted pronto, while others may like to keep it a secret to be enjoyed only by a few close friends or family for a little longer. Other couples like to throw a party once they've shared the news, whilst some prefer to throw a party and make a surprise announcement there!
Whatever you choose, a word to the wise about social media – do make sure you've told immediate family and friends before making a public post. Once your immediate family and closest friends are in on the news, that's the time to go public and get your relationship status changed on Facebook.
Engagement party or straight into wedding planning?
Want a small, intimate celebration? Round up some of your best friends and family for a celebratory drink or meal, or have a special date night with your partner if that's more your style. Our garden dome can be hired to add that special factor to an at-home event after all, you're engaged, and it's most definitely worth celebrating.
Once you have shared the news of your engagement, take time to just enjoy the experience with your partner. Relax, if the timeline isn't tight, don't jump straight into the planning but instead enjoy this new relationship status for a little while. 
You may decide to have a party or arrange an engagement photoshoot to mark the occasion.  You could even combine the two, with a party and photo booth with special backdrop so that you and your guests can enjoy memorable photos which capture this milestone moment.
Of course, if a short engagement suits your schedule, or you just want to get straight into the planning then use the party or family announcement time to start planning ideas. Either way, do whatever feels right for the two of you. 
When you are ready to get down to the wedding planning – sort out a physical folder or digital document space to keep everything in one place. There will be a lot to coordinate over the next few months and the habit of keeping important information in a specific place will really help. There's nothing more frustrating than trying to hunt out a contract, RSVP returns or quotes when you really need them.  
Start to have those discussions about what kind of wedding you both want to have. A formal gathering?  A relaxed outdoor wedding? Church or civil service? An all-in-one place venue, or service in one place then reception at another venue? So many questions already, but if you have no idea where to start, thinking about these questions alongside what suits your individual personalities and preferences as a couple will help. Do you enjoy a good party or are you happier at smaller, more intimate gatherings? Once you have an idea of your overall wedding vibe other things will fall into place.
GET ONLINE
The Internet is a super helpful tool when it comes to all things weddings. Pinterest and Instagram are great places to start to create your own mood board and save images that inspire you. It's also handy for showing your suppliers exact colours, the atmosphere and mood you want to recreate for your day and ensure an overall cohesive look between every element. 
Start to follow providers online so you can be aware of offers they're running and which local or regional wedding fayres they'll be attending, if you'd prefer to take a quiet look before making contact. 
Remember to also think about what entertainment is important to you as a couple. You may have always wanted toastmasters to oversee the smooth running of your wedding party, or you'd like to choreograph a spectacular first dance for your wedding guests? If there's something that you have always had your heart on, then start asking for this when you're looking for quotes. Start off by speaking to your friendly DJ and suppliers who can offer all-in prices for entertainment, to help boost the budget with a few savings which still allow for those special aspects you've set your heart on.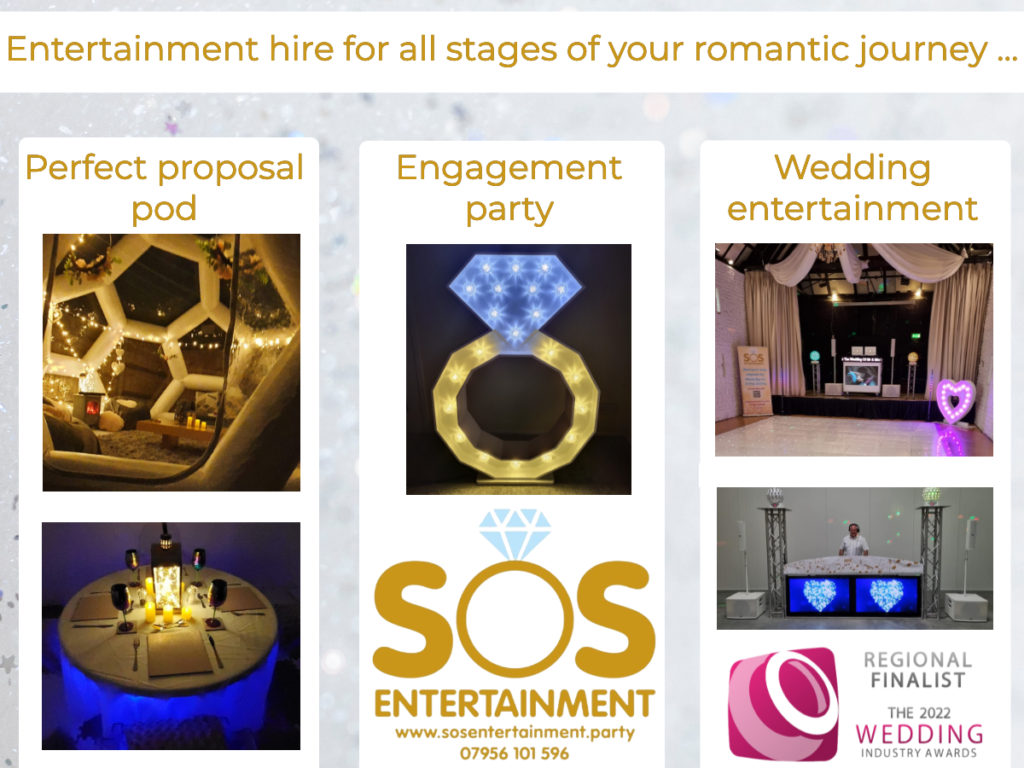 Popular wedding dates and venues get booked far in advance so if you're hoping to get married in the next year or two, it's sensible to start thinking about dates early on. Find out what works for both of your families and whether you need to steer clear of any particular dates.
Once you have chosen a wedding date, start a list of tasks that need planning. You can't book a wedding without a venue so you'll want to research venues and call or visit for information about available dates and pricing. You'll want to have discussions about your wedding size and budget early on into your wedding planning. Some of Sean's other blogs, like questions to ask your wedding venue, can also help you to plan and save time when it comes to fact-finding about your options.
You can't move forward with any area of your wedding plans until you've determined an overall budget and know who may also be contributing to parts of your wedding. Once you've had discussions about your budget and size of your guest list, use the answers to your questions to help you make decisions and book your wedding date and venue.
You'll then move into the happy zone of finding the providers and wedding entertainment to deliver the day of your dreams.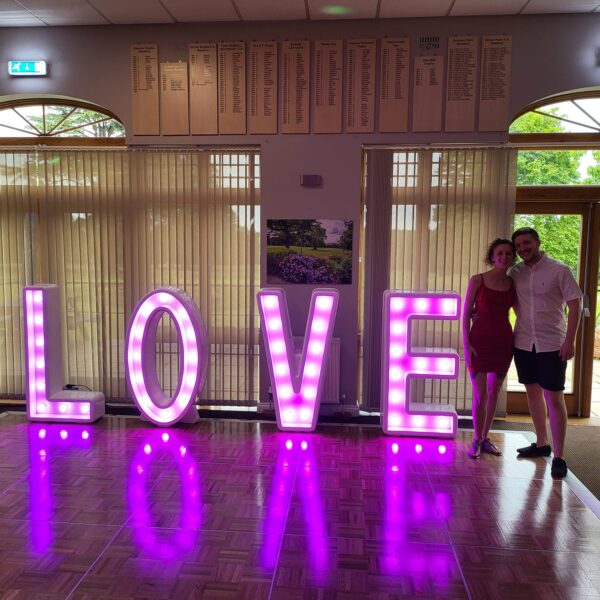 Make a list of what each of you is going to do and split the tasks so that you can both be involved. Have some tasks that you'll do together too and you'll soon get into the swing of wedding planning.  
So there you have Sean's top tips of what to do now you are engaged! Whether you're starting celebrations with an engagement party or moving straight into wedding planning, remember to enjoy this special time!
feel inspired?
Give Sean a call about bringing your ideas to life and make your upcoming celebration magical, memorable and personal.