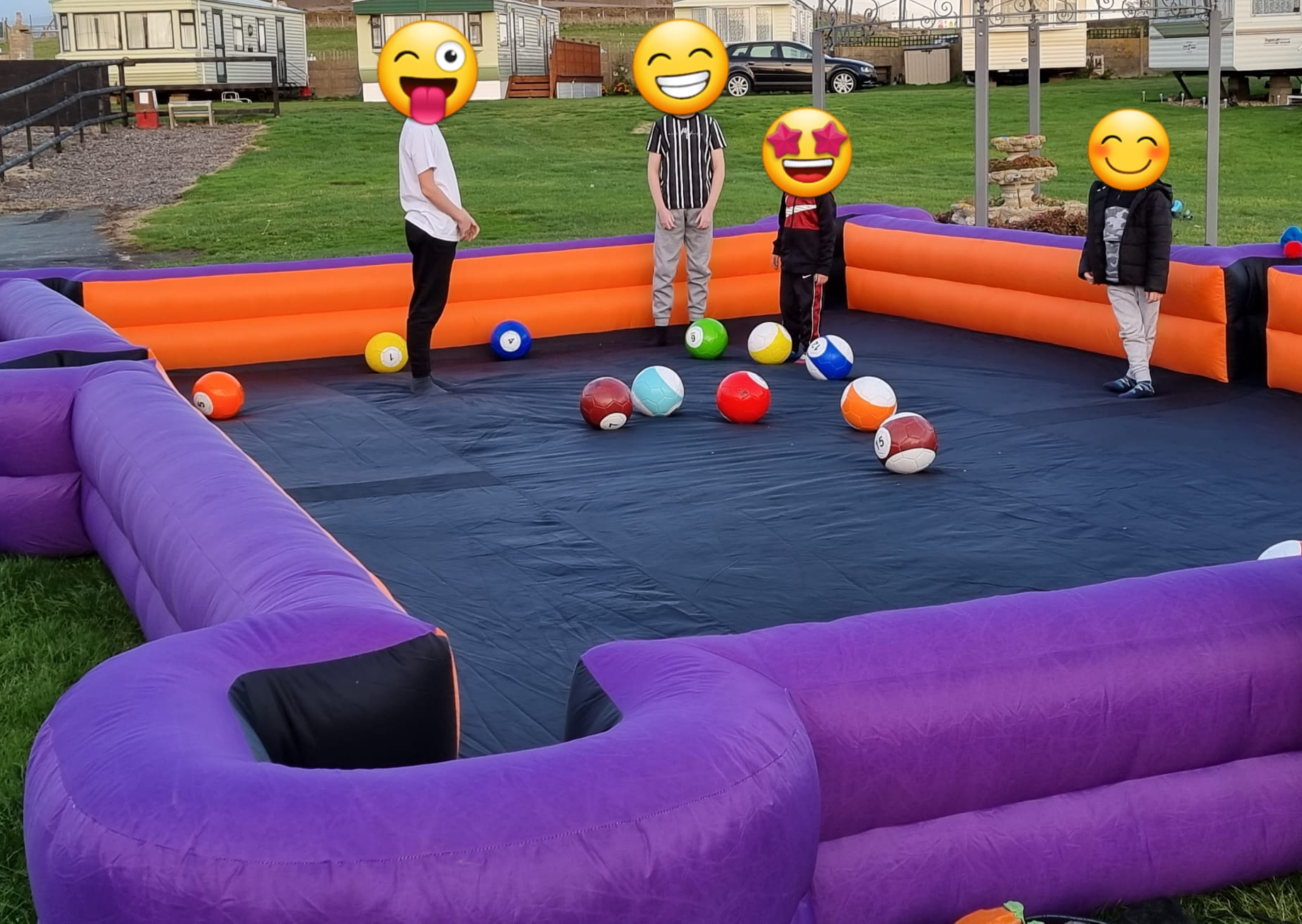 Football Pool Rules & Ideas for Party Fun
Football Pool is the new game that's sure to get everyone joining in and having fun.  Yes, the fabulous Foot Pool is here at OS Entertainment! This game is just what it sounds like: a fun hybrid of football and pool. Just like those games, there are rules to create fun and fair play. But unlike official leagues, whether you choose to follow the rules is completely up to you! 
FOOTBALL POOL hire options
Sean actually has two versions of the foot pool table inflatable to hire. One's a bit more snooker, the other is a little more like pool. But either game offers play to suit your guests, event, party or activity.


For each version, the footpool game is played on a special football pool 'table'. This is actually a platform with inflatable sides and a soft base. The overall platform resembles a pool or snooker table, but with a twist. Players actually walk on the surface to play, instead of using cues! All we ask is no shoes please!

So what makes Foot Pool great for parties? Well, the game can be played as individuals going head to head, or representing two teams.
FOOTBALL POOL (FOOT POOL) RULES
Just like football players kick the balls. And just like pool, the white ball is the initial target. This is aimed at a coloured ball, which you're trying to get into a side pocket. Once all the coloured balls are pocketed, then it's a case of using the white ball to pot the black.
To win, the individual or team must pocket their coloured balls first and then pot the black.
As each individual or team player takes their turn, play continues until they miss a ball or don't get one into a pocket.
They also hand play over to the other team if the white ball is pocketed or jumps off the table.
And if you pot the black before the coloured balls are potted, or if the black jumps off the table? Then it's game over and the opposition claim the win!
If any other ball except the black jumps off the table, it's just replaced to its original position in the middle of the table.
Other rules to watch are if the white ball touches more than one ball when it is kicked or if the player touches any other balls whilst kicking the white.  That's a big no and you forfeit your go!
A foul is also committed if the player touches the white ball with any part of the body other than their feet.
Oh, and you mustn't pot an opponent's ball.
If you mess up and do any of these then it's time to pass the play to the opposition.
Yes, with all these rules and potential for accidental fouls, you can see how this is great fun for a leaderboard or team-building activity!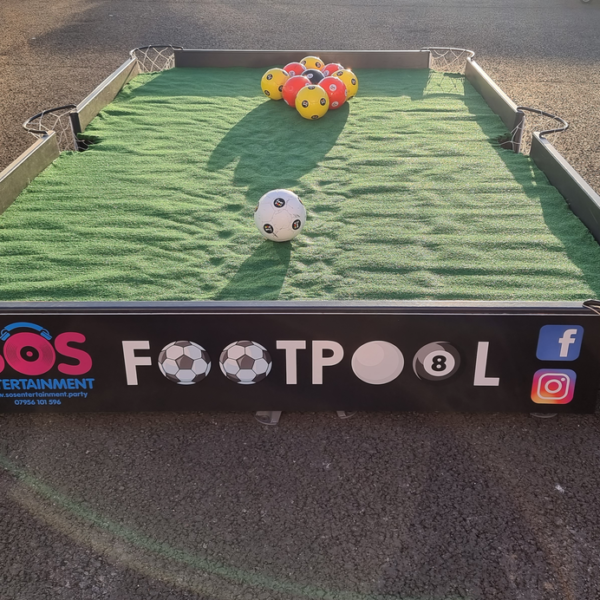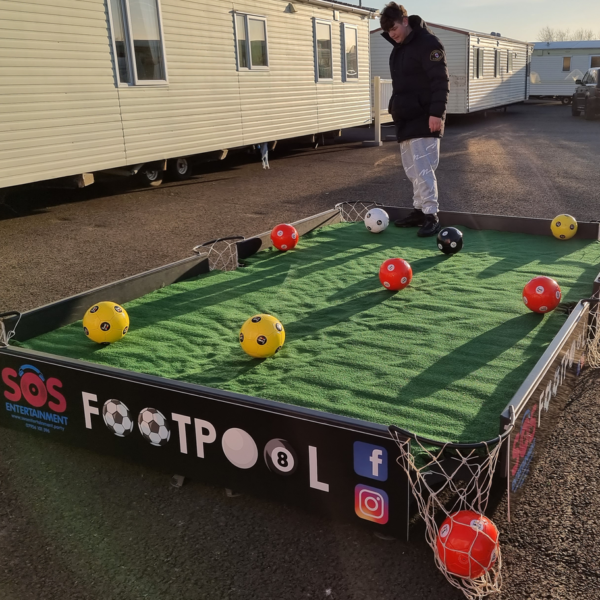 The winner or winning team is the first to pot all their coloured balls and the black. Or:
If the opposition pots the black ball accidentally before clearing their coloured balls.
When the black ball jumps off the table.
If the black and white both end up being potted in the same shot!
Ideas for party fun with a football pool table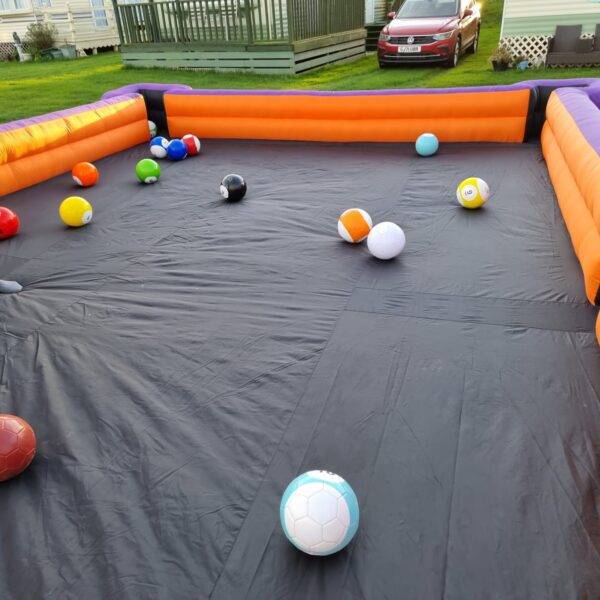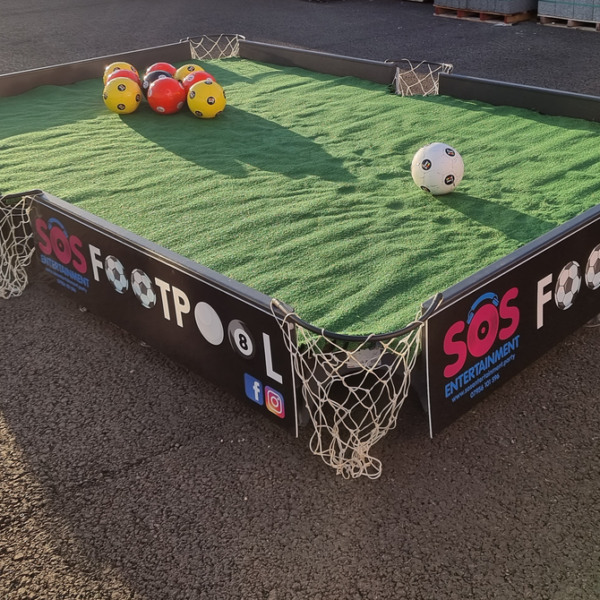 What's great about either version of our footpool is the fun play potential. This can be as active or sedate as you like. So if you're looking for an activity to hire which will add excitement and amusement to an event or party, a football pool table allows you to:
Set up play as a tournament, such as a leaderboard competition for individuals.
Create team challenges and entertaining competition between work teams, friends and family.
As this quirky game for all ages, it's also a great way to bring generations together as teams or match up pairs across the age-range of your event.
It has to be said, we've found this particular inflatable activity particularly appeals to teenagers and tweenies. It offers something a little bit different and allows them to learn and then show off their newfound skills. For younger people, it's also a highly amusing way to build coordination, balance and gross motor skills.
Just like a real pool game or football match, spectators can get involved. Just allow plenty of safety space alongside the inflatable to allow spectators to cheer on their favourite player or team.

There is scope for players to become skilled at fancy moves – hello keepy-uppy challenge – as they play. They also may want to add a bit of drama in the manner of WWF competitors as they approach and leave the footpool table playing area (just remember to do this safely)!

And of course, for those proud of their skills then an exhibition game (or two) could be the way to entertain and delight the crowd. Just have  set time for each player to complete their moves or table 'potting'.  Then the game score gets incorporated with the style scores. If you decide to do this, the spectators could score the moves for each player.

Alternatively, you could organise a judging panel who may (or may not) be influenced by the crowd's cheers! This is huge fun at family events.
However you decide to use either of our football pool tables, you'll have hours of fun at parties, fundraisers, open days and all sorts of events.
And speaking of which, if you're organising an events day, don't forget some of our other inflatable activities. Book several at the same time and we'll bring down the cost with a bundle discount! Just ask our Sean …
LOOKING FOR A SOFTER PLAY OPTION FOR YOUR PARTY
Then Sean's soft play zone is the perfect place, with lots of lovely soft play for playdates, parties and events ...