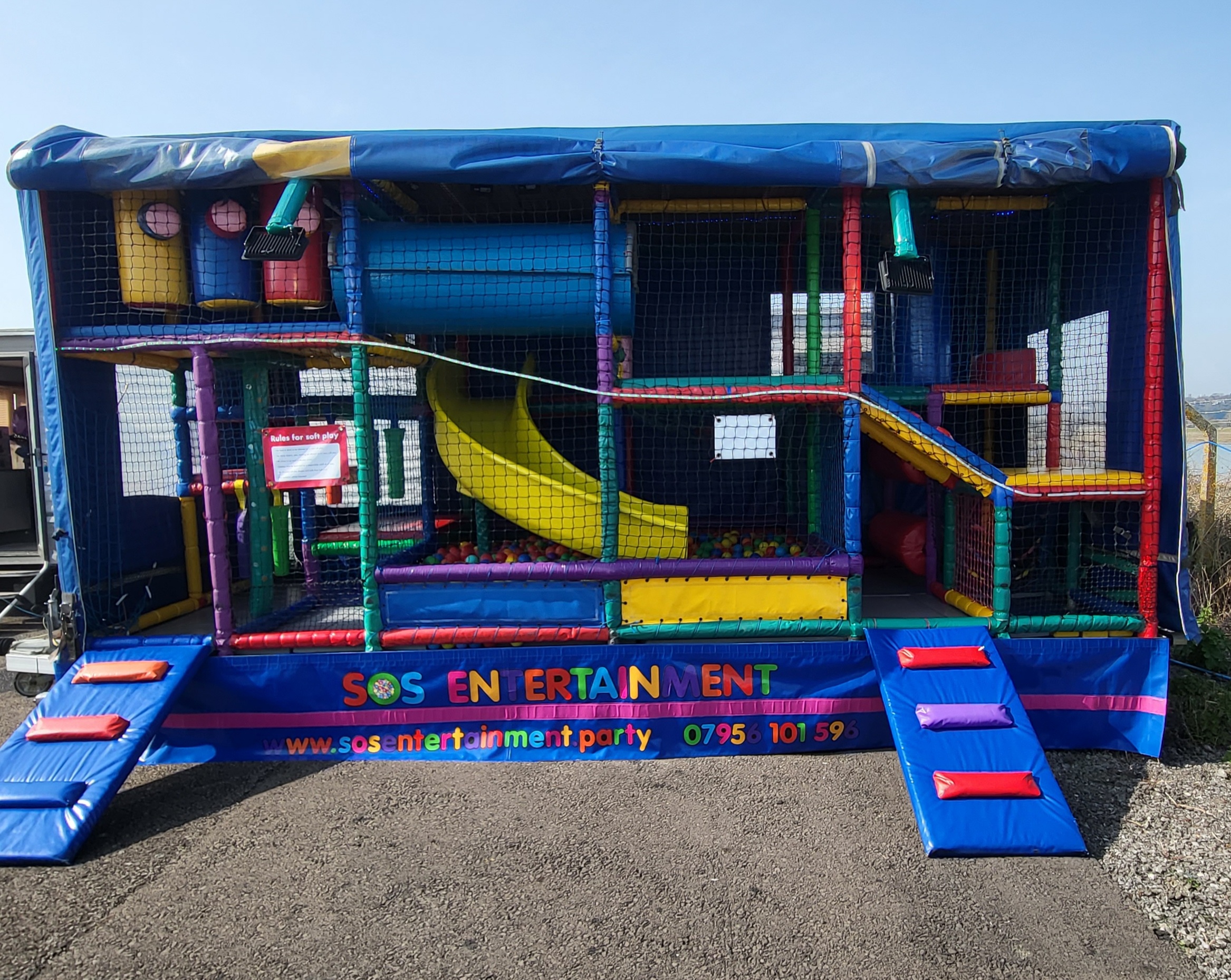 Mobile Soft Play Trailer & Activity Centre for Hire
Our mobile activity centre is the perfect alternative to hiring a kids party bus.  Featuring two different levels, the soft play trailer has a double decker play space! However, as it's a trailer, it can be used in locations where a kids party bus cannot go.
step inside our mobile party games alternative
Come on in for a good look around. You'll notice there are no steep metal stairs to climb and fewer access restrictions.  Our soft play trailer offers different zones that suit most kids and many party requirements.  
Check out our mobile activity centre interior with its bright colours and various activities. These add a colourful, cheering wow-factor, sure to please all your discerning kiddie partygoers.  Then cast an eye around the amazing play spaces of soft pillars, slides, tunnels, crawl spaces, ball pits, climbing areas and quiet zones.
The activities are carefully designed to optimise kids' sensory experiences and imagination at the same time as having fun.  There is so much that you can do with the activity centre whilst keeping all the kids play activities safely in one place.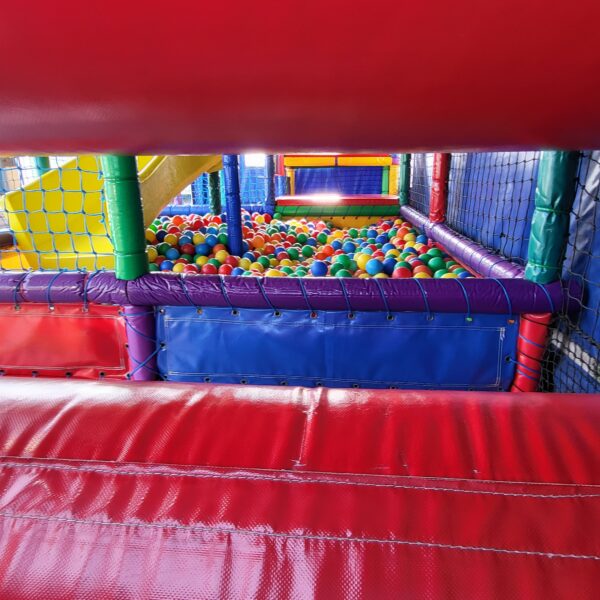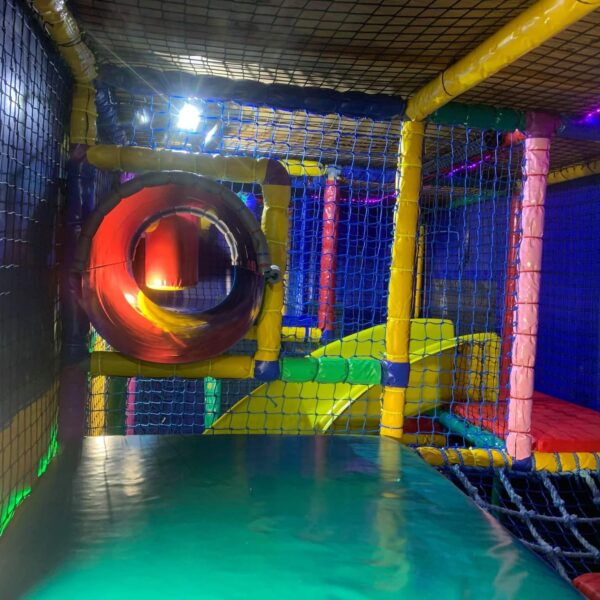 The children can play in the activity centre and enjoy free play, or you could organise games for individuals or teams.  Organised games could include musical statues, treasure hunt, silent dancing, obstacle course, and timed laps. Alternatively, organise teams of two, three or more, so the kids can have fun problem-solving together and demonstrate how well they work as a team.

In all, our mobile activity centre is a perfect solution for outdoor kids party ideas.  Best of all, it's an all-weather all-in-one amusement-packed place for kids, which encourages imaginative play through physical activity.
great for kids, perfect for parents!
Hiring the kids party trailer and hosting the party at your own home offers you many convenient advantages:
You organise the party exactly how you want it.
Buy-in or organise your own catering, which is ideal for those with food allergies.
No worries about transporting a gaggle of giggling youngsters! We bring the trailer to where you need it, so you'll avoid the inconvenience of driving and parking.
Grandparents can comfortably attend and enjoy watching the fun.
It won't matter if kids don't all turn up or if siblings want to stay, as you are not paying per head.
The space is easy to decorate for a party theme. Add balloons and details – or ask us if you'd like to hire extras!
All the fun's in one great space, with minimal disruption …
Which means no kids running around in the house, so your own cleaning up is kept to a minimum!
perfect play-space for more than parties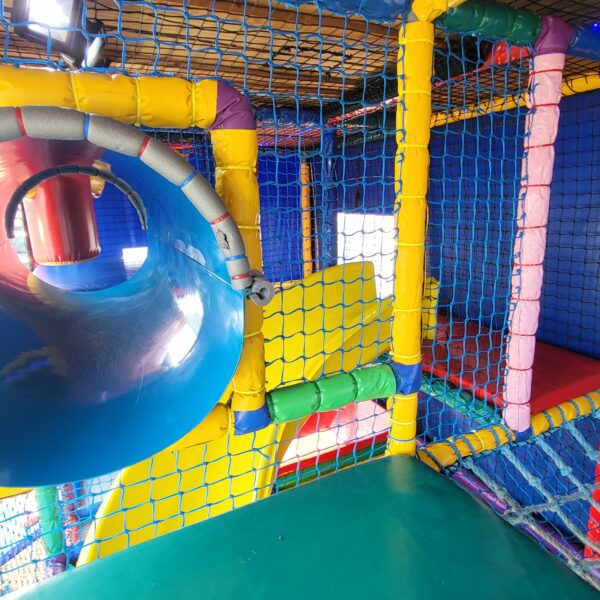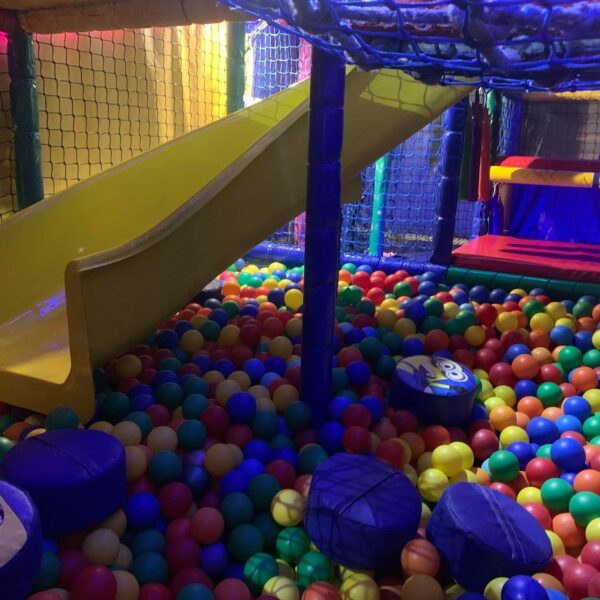 Whilst it is perfect for kids birthday parties, Sean's mobile activity centre is also the perfect choice for any event when you might have  considered a kids party bus. Or if you just want outdoor kids party ideas (and solutions) that bring something a little different.
As it's completely mobile and can be transported to where it's needed by the SOS Entertainment team, Sean's activity trailer is an excellent option for a huge variety of events. 
Use it alone, or hire it alongside some of our other kids activities to maximise the fun and age range suitability. And because you're dealing with Sean, you can also minimise the cost with Sean's famous bundle hire discounts.
The mobile activity centre is a perfect option for any event where you want to entertain kids for hours, whatever the weather.
What if you are looking for outdoor kids party ideas, or children's outdoor all-weather activities for events? Then this alternative to kids party buses offers the perfect solution for mobile party games, events, fundraisers and parties. How about:
Kids Birthday Parties
Fundraisers
Open Days
Christenings
Fun Days
Fetes
Weddings
Promotional Events
Festivals
To keep younger siblings entertained when a teenager has a birthday party or coming-of-age celebration.
Sanitised, set up & taken away
The play trailer is delivered to your location and our team set it up, all ready to go.  We'll have already carefully fully sanitised all the activities.  We'll detach the trailer, set it up and give you a handover chat on everything you need to know.
When you hire the mobile activity centre, all the fun is in one safe place, so it's easy to supervise the children whilst they have fun. 
At the end of the hire, we collect the unit and take care of all the cleaning, so there is no play area clearing up after the party.
The way to play this year
Now we're moving through 2022, the time couldn't be better for kids getting together and having fun.  So many families have been isolated due to the pandemic and so many young ones missed out on birthday parties. After all, kids' birthday parties are one of the best bits about being young and having a birthday! Playing together on the mobile activity centre is the perfect way to restore party time, and for kids to enjoy playing and bonding together after so much time apart.
LOOKING FOR other PLAY OPTIONs FOR YOUR PARTY
Then Sean's soft play zone is the perfect place, with lots of lovely soft play for playdates, parties and events ...