Looking for inspiration to make sure an outside treat goes ahead, whatever the weather? Say hello to our igloo dome tent?
More of an inflatable igloo dome, than a tent of the traditional kind, an igloo dome is great for special treats – even across the colder winter months. 
Sean has so many ideas about how hiring an igloo dome adds outdoor fun to a celebration, brings a sense of something special to a well-earned break or can be a thoughtful treat for a loved one. So, the listing for his igloo dome already includes options for going cosy, having a cinema screening or enjoying a spot of wining and dining …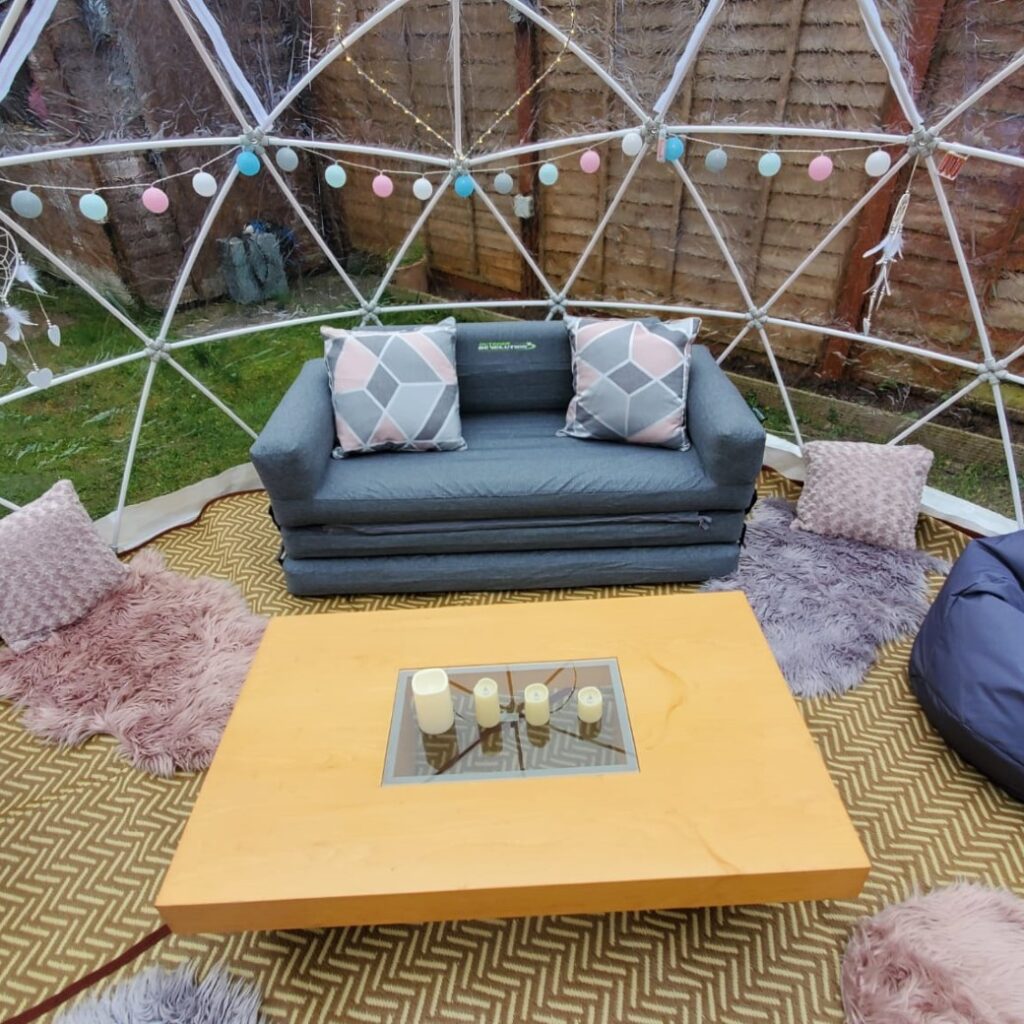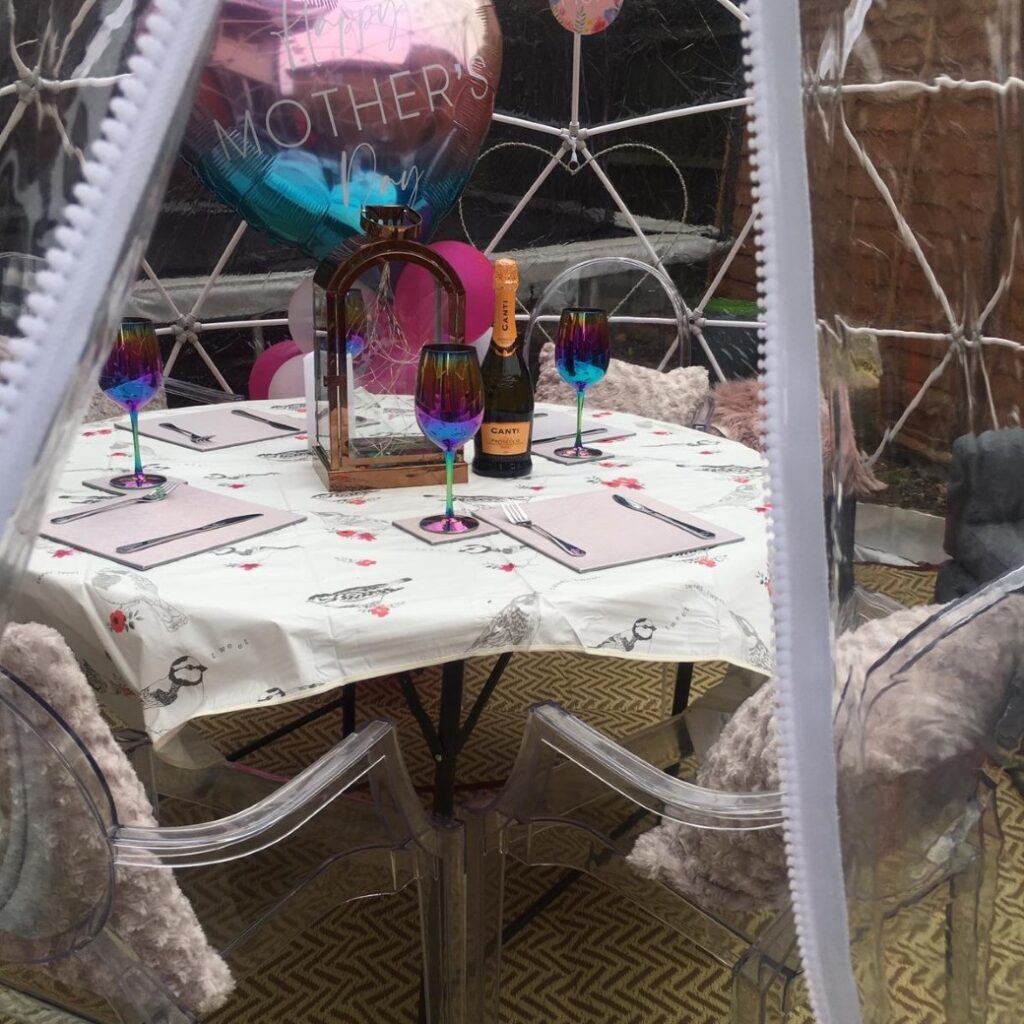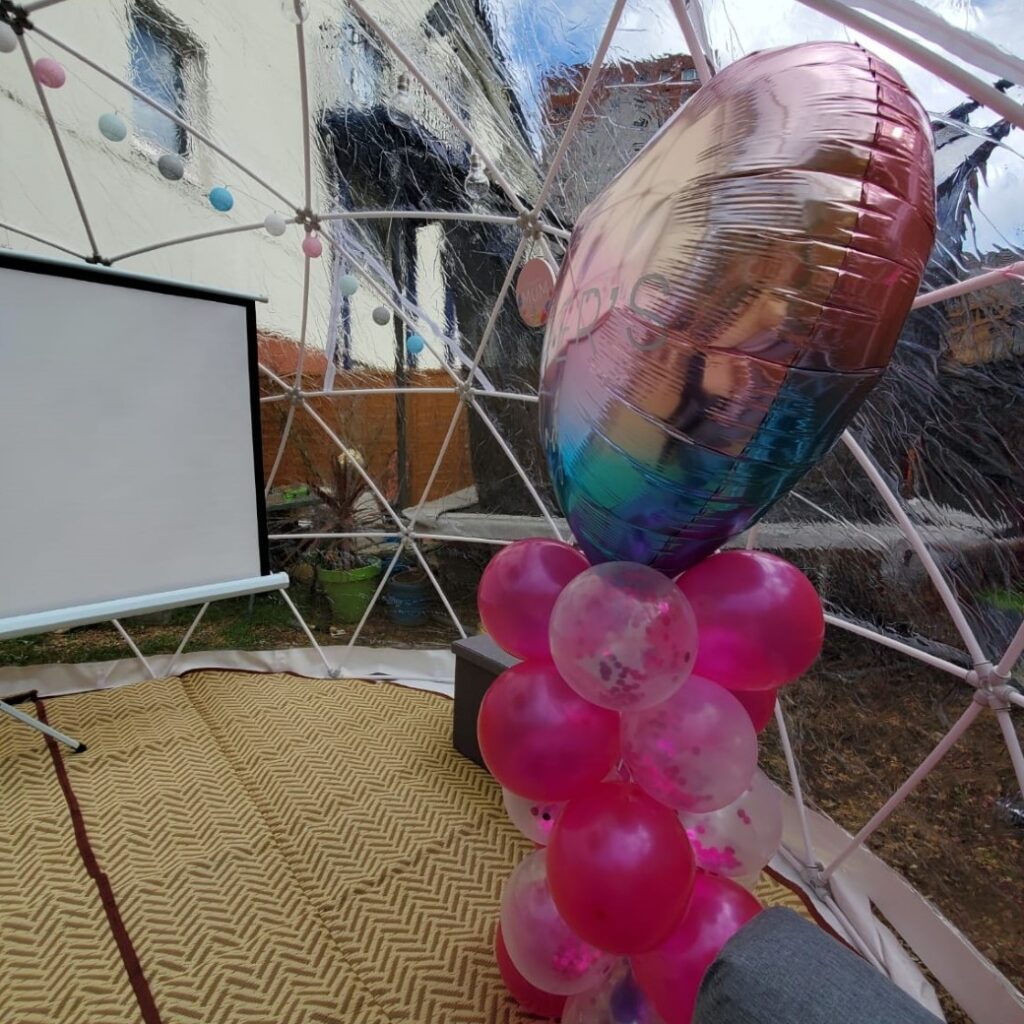 But how else might you enjoy an igloo dome tent for a special occasion?
#1. STAYCATION OR A SLEEP-UNDER
2021 is set to be the year of the stay-cation. But already, self-catering or holiday bookings are hard to find and may be expensive. So why not stay at home and enjoy a special space in the garden? Consider hiring an igloo dome to:
Have a romantic stay space, sleeping under the stars with someone you love.
Oh … and that under the stars thing? The clear sides of the dome offer the perfect option for staying warm and dry without missing cosmic spectaculars, such as meteorites, super-moons and shooting stars.
Is someone you love missing their favourite tropical paradise? Our igloo dome can be themed and decorated accordingly so you can recreate paradise in the back garden. 
Fancy a getaway but can't actually get away due to travel restrictions, responsibilities and work commitments? The hire of an igloo dome, even just for a weekend, provides a space that's 'something different'. Getting away in your own garden brings a change of scenery and a space to chill out. This option is especially ideal for key workers such as NHS staff when they finally get a little time off and need some sanctuary space. And don't forget, Sean's happy to give key worker and NHS discounts. 
Most gatherings are taking place outside this year – but the summer's also when hazards can lurk! From annoyances like bugs and insects, to dodgy or dangerous areas of the garden, there may be a reason why you'd like to have an 'inside' space without taking the party indoors. 
Thankfully, with its 3.6 m diameter, our igloo dome can provide exactly what's needed. Just think about how it could be strategically placed to:
Restrict access to another area of the garden.
Be a useful space for placing the food, drinks and refreshments.
Create a quiet play zone for children, perhaps by including a toddler ball pit or soft play.
Create a sit-down zone for older guests. With its extra comforts, the Cosy hire package is perfect for this.
#3. calendar celebrations
Those memorable calendar dates still come around, even if the celebrations may not be able to go ahead in the usual way. An igloo dome offers a practical and, if you organise it right, even a surprise venue for special dates such as Mother's Day, Father's Day, Valentine's, anniversaries and birthdays.
And speaking of surprises, it's also a great option for making a date memorable for the first time! How about surprising your nearest and dearest with:
A romantic set up for a marriage proposal.
A baby-on-the-way or gender-reveal announcement.
A warm welcome home.
Screening of a wedding video for the first time (Sean's Cinema set up is perfect for this).
#4. WHEN GOING OUT ISN'T AN OPTION ...
There are many reasons why getting out there for a special occasions may not happen for some families. When this happens, an igloo dome in the garden offers a unique way to still plan something special:
Need a romantic dining option during a local lock down or when babysitters aren't available? The dining option hire includes some lovely light-up accessories, such as a light-up table. So whilst candlelight isn't possible inside the dome (for safety reasons), soft lighting, starlight and moonlight can definitely be part of a date night or romance-themed dinner party.
Spa venue slots all booked up? Install the igloo, invite some friends, hire a mobile beautician or buy-in special treatments and enjoy a luxurious pampering at home. 
A low-key event at home doesn't have to be boring when there's an igloo dome and access to bundle options with other hire accessories from SOS. From a baby shower for a select few, with baby reveal items, to a teen screen or gaming night and birthday sleep over, there are lots of options for personalising a hire package and for creating the space to treat yourself and guests to something special – whatever the weather brings this summer.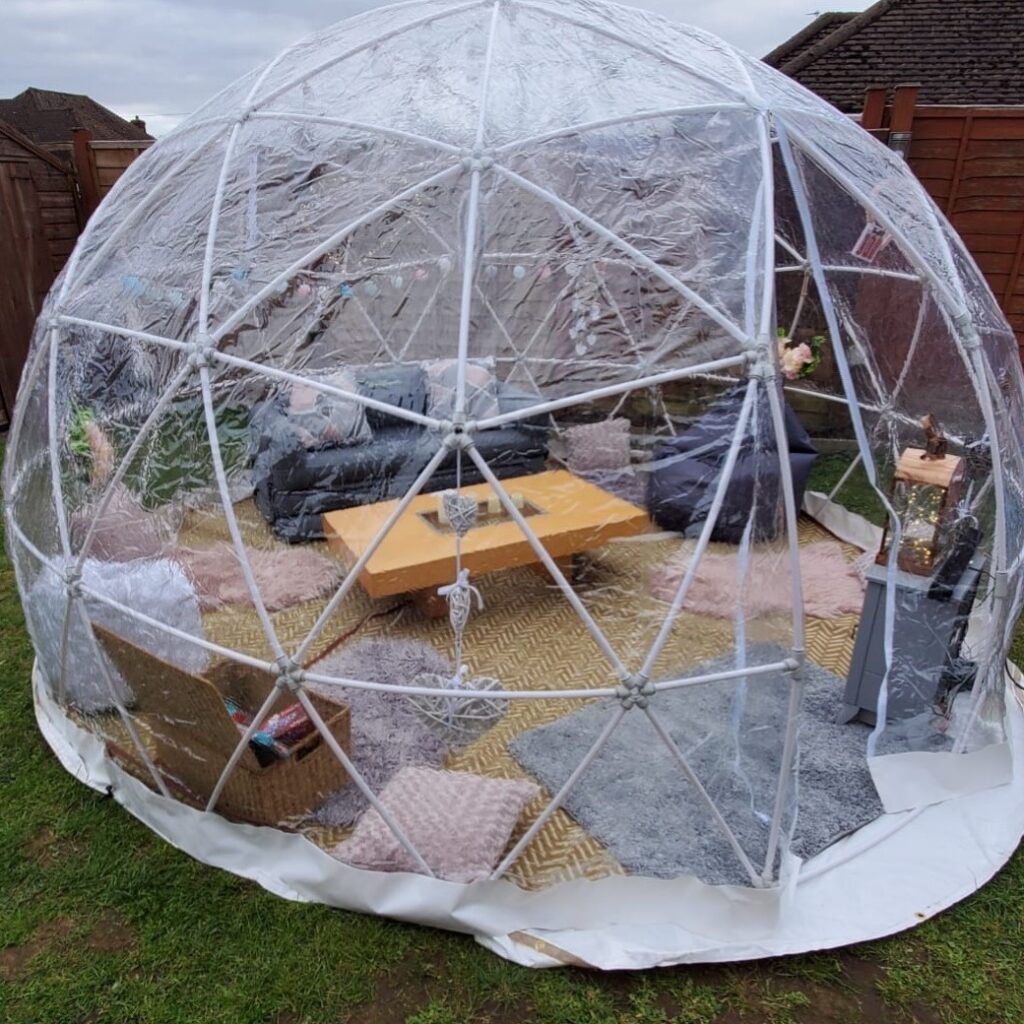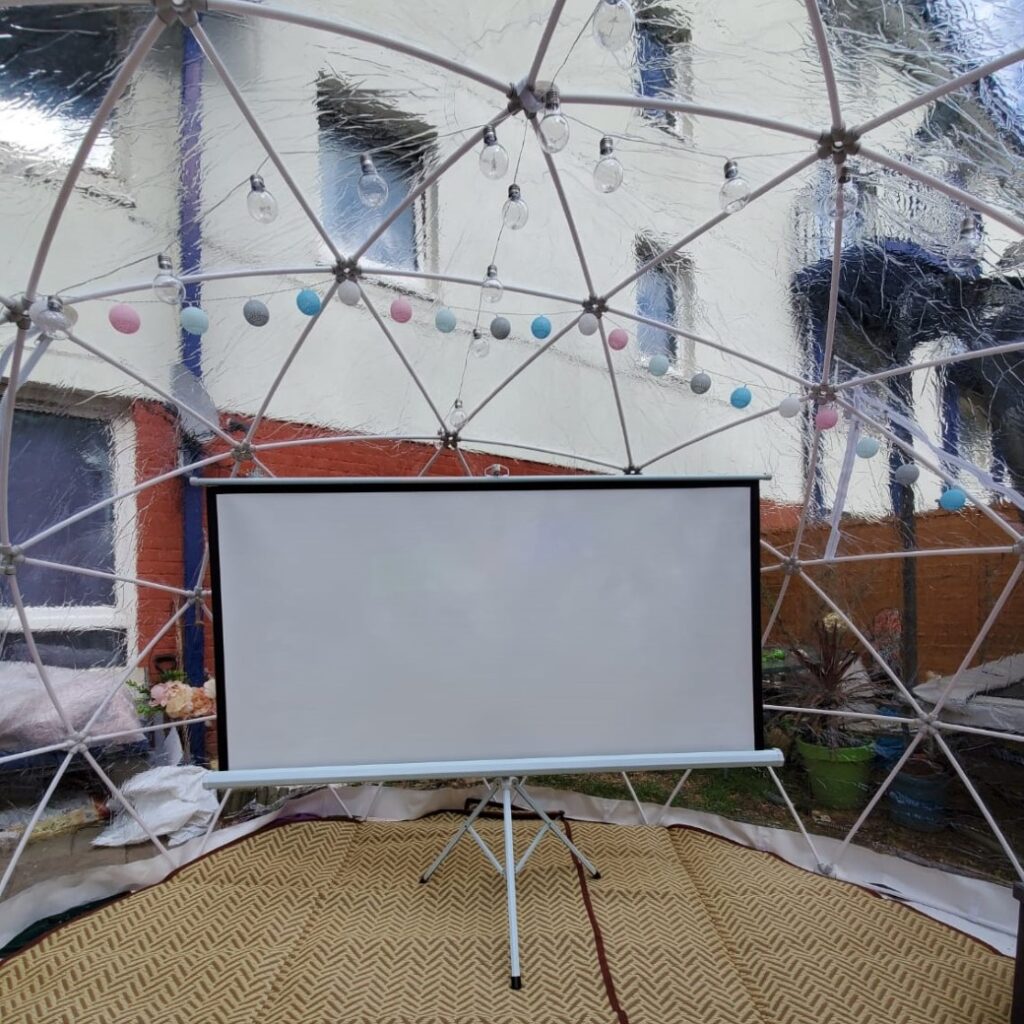 Add a flourish, reduce risk
 Our inflatable igloo dome proved very popular towards the end of the most recent lockdown; it's an easy way to add real flourish to an occasion, and to show real thought for someone special. 
The best thing is that you also have all the fun and, whatever option you choose, all our hire items come to you fully sanitised. We'll also put the iglood dome up and take it all down for you with as much social distance as needed, just ask a recent customer …
"Have had two hires from sos entertainment in the last few months and both times have been amazing. Very organised, and punctual. Also being a health professional I was a bit dubious on how we could do this Covid safe but Sean was prepared for everything and ensured we were all safe whilst delivery was taking place. Sean also puts extra little touches for your special occasion I can't thank him enough for the special memories we've created as a family during this unprecedented time.2
SOFT PLAY ALSO AVAILABLE
Ask us about adding a soft play set to create a bespoke bundle with our igloo dome hire