NERF Wars Party Ideas
An ideal option for indoors or out, Sean has plenty of hire items for Nerf parties and even more Nerf wars party ideas! 
WHY ARE NERF PARTIES AT HOME A POPULAR CHOICE?
Whilst plenty of play centres specialise in NERF wars games, holding your own NERF parties at home can be a popular alternative.
The Nerf guns fire soft darts, so there's all the fun of paintball, without the pain and bruising!
Hiring Nerf guns for a Nerf party means that you choose the location, unlike laser-quest and paintball that are location restricted.
Holding the party at home can be far less messy than you might think! So long as you have safe space for the running around, Sean and his team will clear up all the equipment afterwards.
Nerf parties aren't all about just running around with guns. To succeed, players have to plan, strategise, move about, be part of a team, cooperate, and use survival instincts and good sportsmanship.
And that running around part? As long as you have the space to set up safely, Nerf parties are a great way to channel that excited energy that comes with a birthday party!

All of which sounds like a fun party without the hassle of preparing lots of entertainment.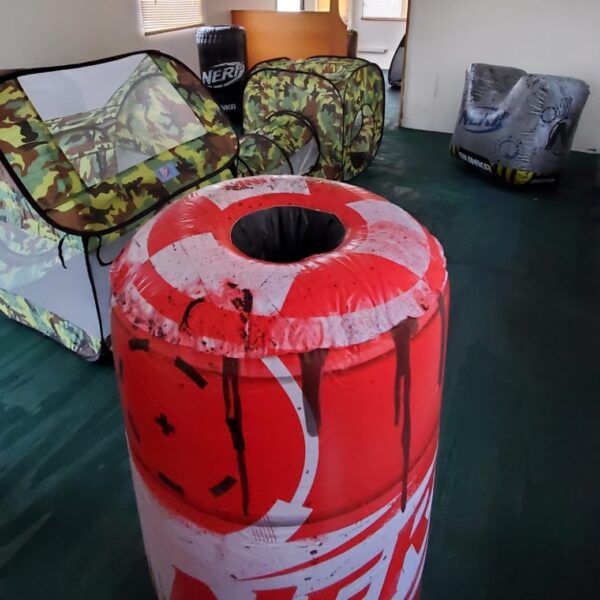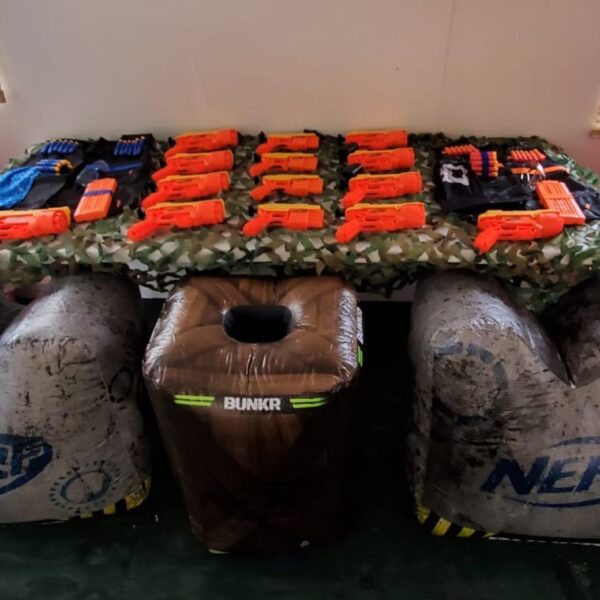 Nerf parties are an excellent way for kids to let off steam, and hiring the
Nerf Gun Parties
options from SOS Entertainment means that you are in control. Hiring the equipment to use at home or at a hired venue gives you more time for play and more location choices. Because you have control, you have plenty of opportunities for taking photos and videos.
Of course, not everyone has a big garden, but if you do (and it's not the middle of winter), then that's the first option! Set up obstacles in the garden and draw names out of a box for the teams, and you're good to go.
If you have access to some land, then even better, more space, more obstacles and more fun. Always ask the landowner or user first, but frequently neighbourly farmers and horse keepers will let you use a field after the hay or silage crop has been harvested. Always check about permission and assess for risks first though!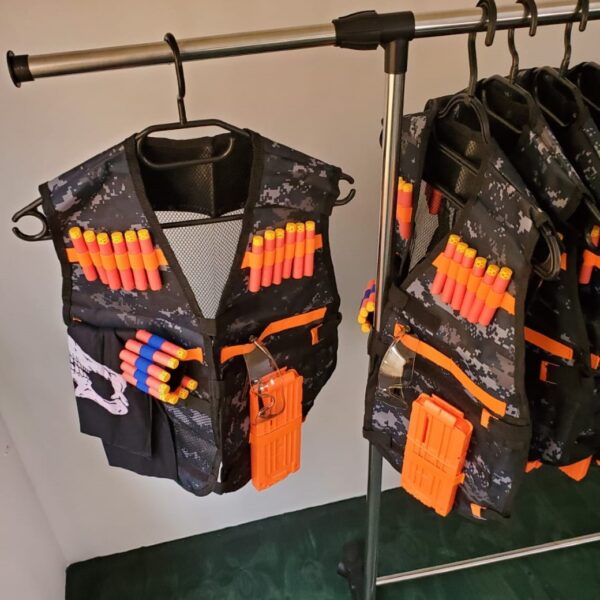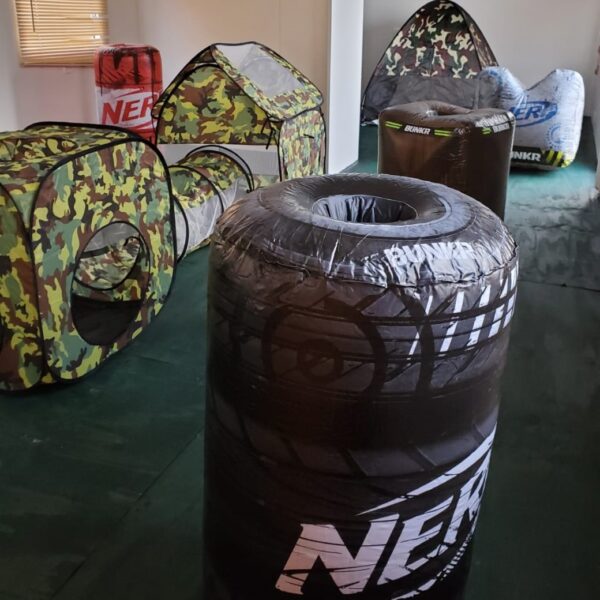 Creating obstacles and barriers out of pallets, old tyres, and garden chairs is a great way to transform the space. Some industrial units may have old packing cases that you could use in return for disposing of them afterwards.


Sean's NERF parties hire comes with all the guns vests and accessories, as well as assault course obstacles which are everything you need to get that party started.
But if you have the extra space, there are also extra options! Additional inflatables can also be hired alongside, such as Sean's inflatable nerf target Battle Zone firing range or his exciting Nerf Bunkr Battle Fort inflatable.


The obvious option for Nerf gun parties is kid's birthday parties, but they're great fun indoors too, perhaps to theme around Halloween for a half-term treat or other themes that your kids and guests will love.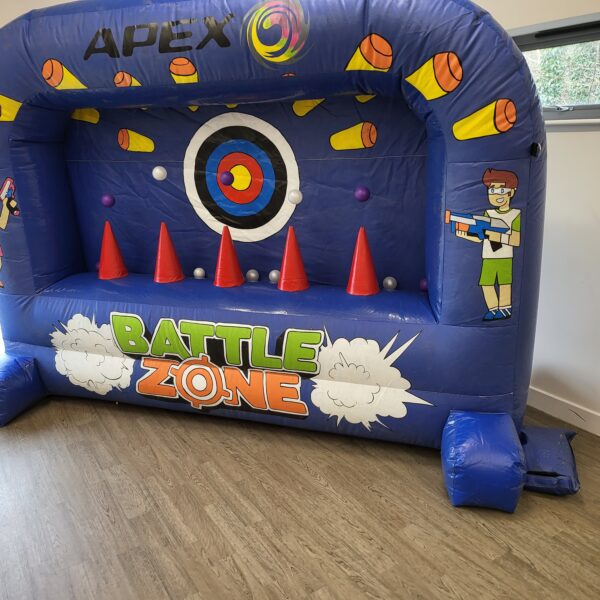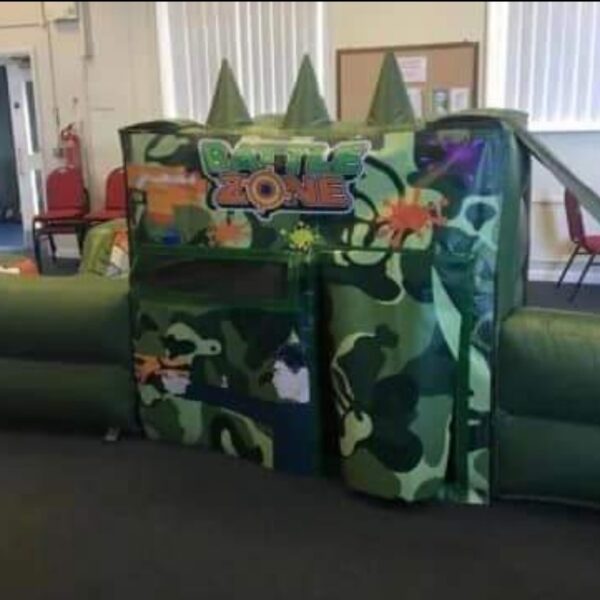 Of course, Nerf gun parties are not just for kids. They're an excuse for grownups to behave like kids too, but with the added strategies, cooperation and other life skills that being an adult brings. Forget being an adult for a while, put all that responsibility behind you and concentrate on the moment, embrace your inner child.

Adults and kids can play to raise money for charity, for team building and stag and hen parties. Sean's happy to offer extended hire options, so if your event lasts longer than the average party, there's plenty of time to create challenges, personal targets and additional playoff games.
And as well as those additional Battle Zone inflatable options,Sean's inflatable maze really comes into its own for NERF parties!


When you don't have the time or don't want all the hassle of disposing of the junk afterwards, hiring our 40ft inflatable maze offers convenient gameplay space and the incredible fun of soft-wall chases. It's also a reassuring option in case of wet weather for Nerf games and challenges. Ask Sean about a special bundle option to hire together.


The Nerf & Maze bundle option works well for fun corporate events and team-building days and adult Nerf birthday parties; say hello to an 'outside the box' but inside the maze alternative for a very different birthday party!
convenient and hassle-free
Play centres and NERF party venues do offer convenience but it comes at a cost and with very strict limits: both on time for game play and often on the number of guests.

When you hire at home, there's no worry about getting somewhere on time or having to find somewhere to park – or the risk of the venue suddenly being locked down or closed due to illness and staffing issues at the time of your celebration or event.

As well as convenience, SOS Entertainment Nerf gun packages offer excellent value for money too. Unlike many static venues where the time is limited to just 2 hours. We deliver, set up, you have the equipment for a full 6-8 hours, and then we come and collect.
And if you want extras such as balloons, additional inflatables or extended hire times? Give Sean a call to sort it all!
LOOKING FOR other PLAY OPTIONs FOR YOUR PARTY?
Then Sean's Play-mobile could be just the thing! This fantastic play space brings the fun to you ...