Thinking about popping that all-important question and want to go large (but not necessarily public) with it? Happily, our 5m garden igloo dome is the perfect setting for a low-key but thoughtful way to propose at home. So settle in with some of Sean's suggestions for romancing the dome …
DINING FOR TWO COULD LEAD TO "I DO" ...
Getting down on one knee, or hiding a ring in a pud (choke hazard alert!), the dining scene is a popular one for proposals.
And Sean's got you covered, with a complete dining space setup option for our garden dome hire. Included is a special LED light-up table, additional cosy features and lighting, all ready for your dining delights and magical moments. How about these romantic proposal ideas …
Organise a special meal, maybe book a chef-at-home, a favourite take-out or cook something yourself? Whatever you choose to do, planning a special meal shows extra thought and makes a real treat of the night for both of you.
Setting up a surprise dinner as part of your proposal creates lots of ways to plan the proposal.

Hide the ring at the bottom of a glass (just encourage sipping so it can't be swallowed)!
Create a unique menu of 'options' which include a lifetime of dinners together.
Leave a handwritten or designed note inside a napkin.
Serve a special cake or dessert with the question in it.

 Order bespoke tableware such as engraved glasses, to pop the question for you.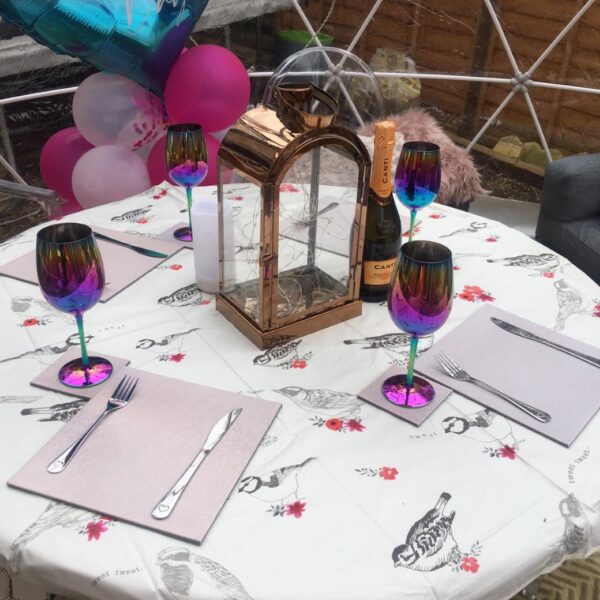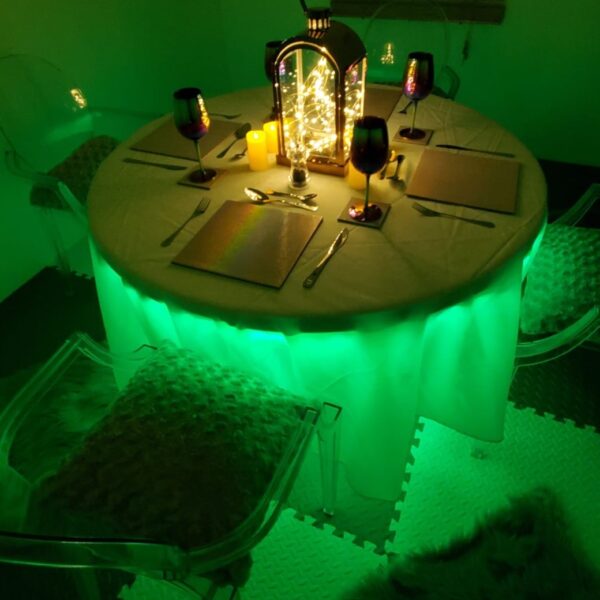 And after the proposal? We can include cosy accessories to transform the space into a magical place where you can start to make those plans – or just enjoy that private moment together before sharing it with the rest of the world!
Cosy romantic proposal ideas
Sean's Cosy Dome option includes plenty of soft touches and mood lighting for creating the perfect backdrop across a range of romantic proposal ideas: 
Playing favourite music or a meaningful personal playlist to set the mood for a proposal.
We can include bespoke hamper options for helping pop that question.
We include a box of games in the Cosy Dome, so how about slipping a proposal into a favourite game – it's one way to liven up a game of Monopoly!
Need a romantic fireside? Sadly no flames are allowed BUT our cosy hire includes a flame-effect stove to create your cosy space.
And our hire price is always for 24 hours, so there's plenty of time to enjoy a night under the stars!
Sean's cinema dome option includes everything needed for sound and vision. How about …
Creating a video or photo montage to watch together? Include an extra video clip at the end where you pop the question, or end the video on a special song and make the proposal in person. 
Screen a favourite Rom-Com that includes a proposal and steal the moment from the film with a real-life enactment!
And back to that cosy fireside snuggle? Our 50″ screen can provide a vibrant vision to snuggle up in front of!
GET CREATIVE WITH THE SPACE
We've all just come through some difficult times and it might be that the proposal you're planning in the garden dome wouldn't be your first choice of location.

However, you can adapt or add to the options available to create the right backdrop and mood for your moment. Fill with plants, balloons, Disney-themes, jungle themes, tropicana. As Sean once famously said on another blog: 
insiration, imagination and a whole lot of love
Whichever option you choose and whatever you add to personalise the proposal, there are extra things you can do to build the anticipation and show the love:
Add a flower arch at the entrance for extra romance.
Create a lighted pathway up to the dome using solar lights or tea-lights in jars (no flame candles allowed inside though please)!
Doing it after dark? How about our engagement ring party light? Hide it in a dark corner, then light it up at your chosen moment for a big-reveal and an even bigger question!
Our igloo dome hire is for a full 24 hours, allowing plenty of time for creating the best possible space for your perfect proposal. And if you need it for longer? Just speak to Sean about availability and best possible pricing. Just get in touch and we're happy to help!
You might also like to check out our other igloo-inspiration blogs …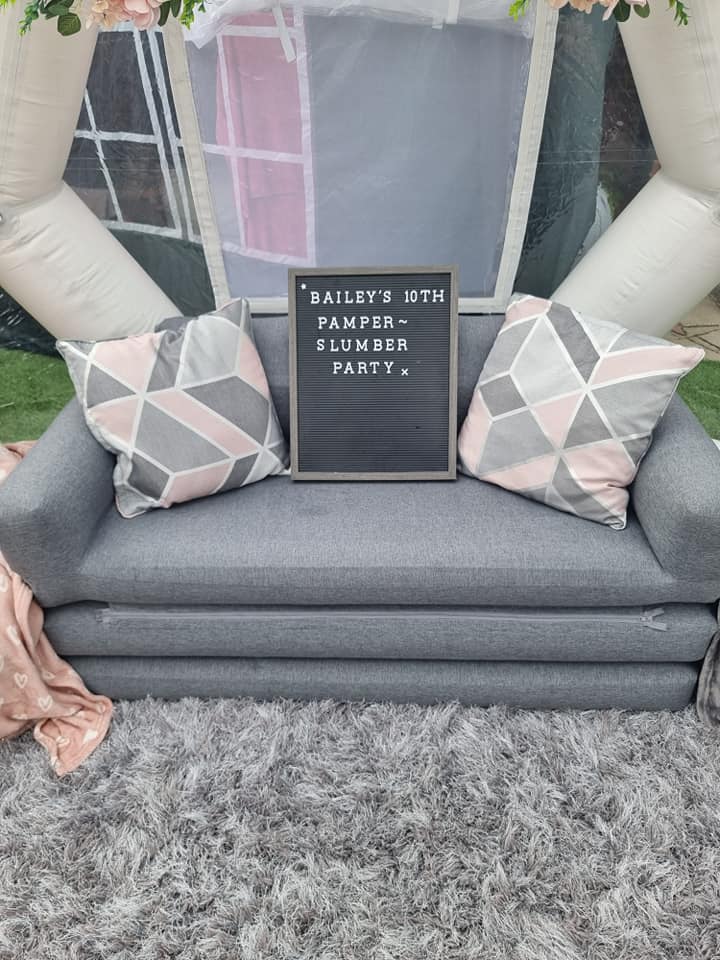 Looking for slumber party ideas that won't bore everyone to sleep? Our garden igloo dome hire options are spacious, stylish ways to host a sleepover…
Read More »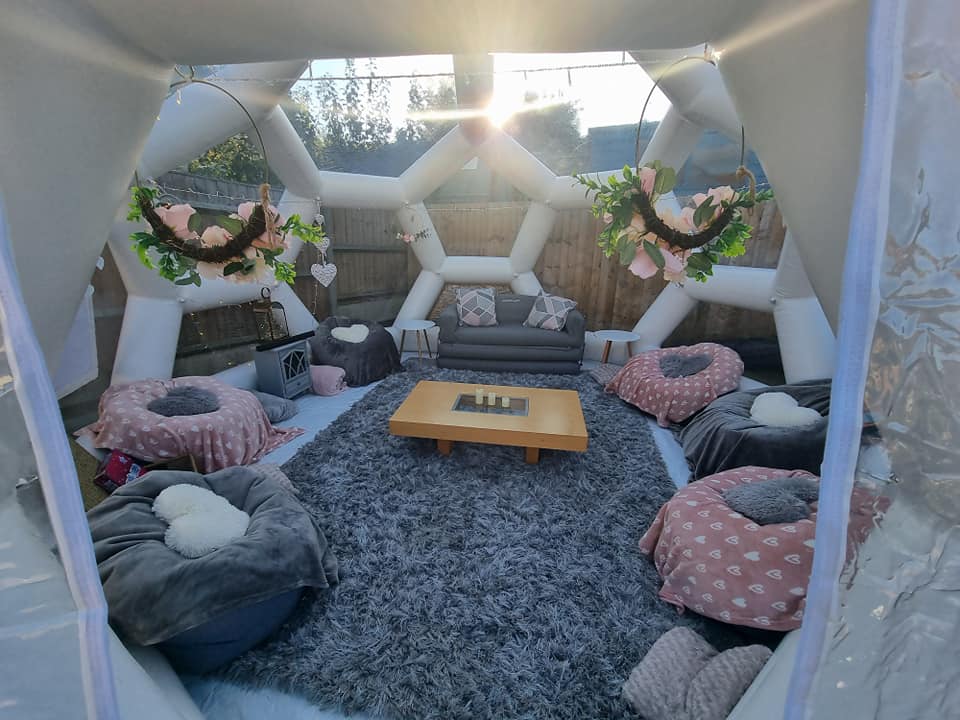 Thinking about popping that all-important question and want to go large (but not necessarily public) with it? Happily, our 5m garden igloo dome is the…
Read More »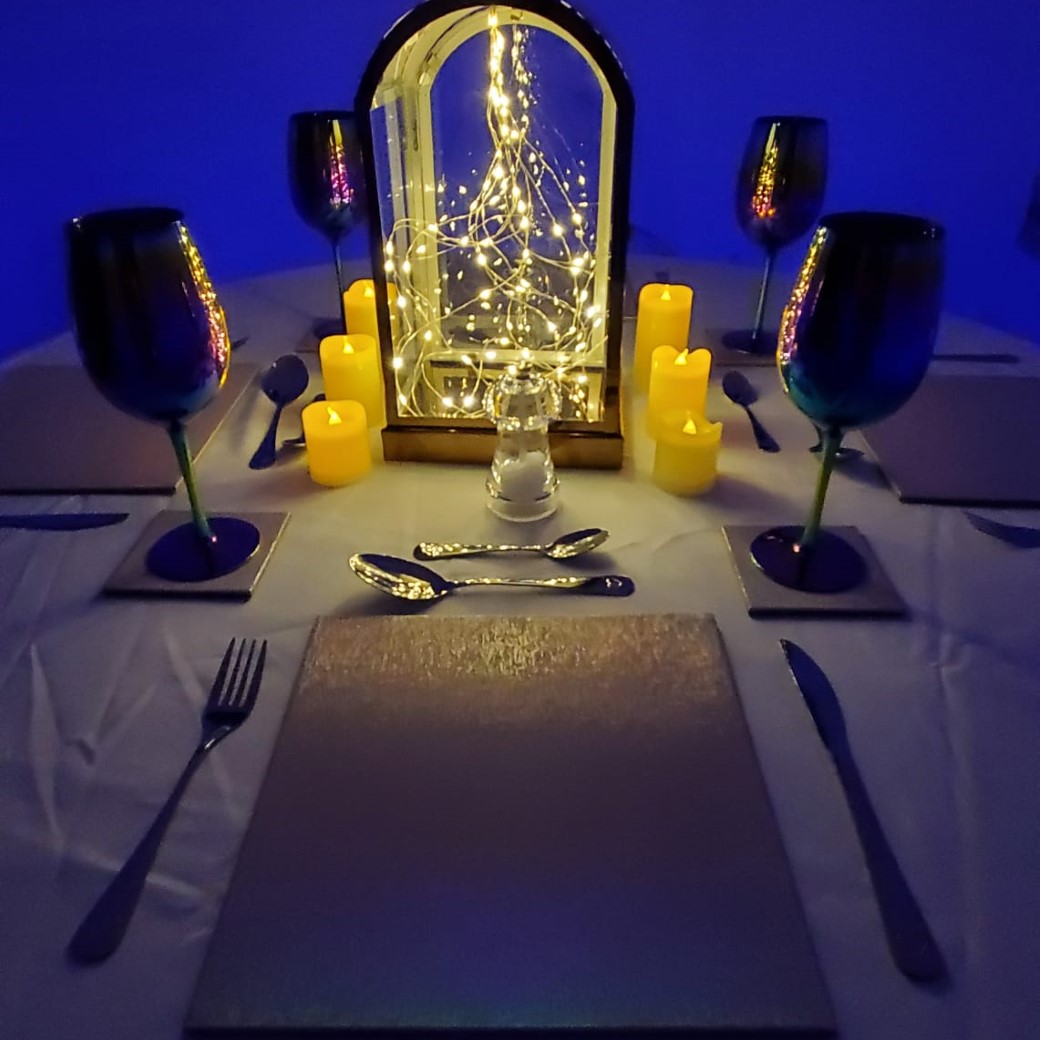 Guess which of our hire options is proving very popular in the romance department? Yes, as the title of the blog suggests, our garden igloo…
Read More »
AND TO ADD TO THE PROPOSAL OR ENGAGEMENT PARTY ...
If you want to let some light up your proposal, or decide to announce your engagement with a party, we have the perfect addition ...