Good news! In its latest round of CV-19 restriction lifting, the government finally confirmed that weddings with a small guest list can start to take place, from 4th July 2020. 
As reported in the BBC, the limit on numbers is 'up to 30 guests'. For many who were planning a 2020 wedding, this may mean a slightly different – smaller and spaced out – celebration. Sounds like you? No worries, in the spirit of helping (and sharing) here are some of our wedding entertainment ideas to help celebrate your big day, the safe way.
WEDDING ENTERTAINMENT IDEAS #1: LET A DJ ENTERTAIN YOU
A wedding DJ, dance floor and lights are the classic combination for getting your party going and, although restrictions apply to receptions, up to 30 people can still party! 
Loud music isn't advised as it can cause people to shout, but if you're looking for some tasteful tunes outside, it's still possible to make music part of your day. Our DJ services form part of all of our wedding packages and we can tone down the tunes to suit what you need.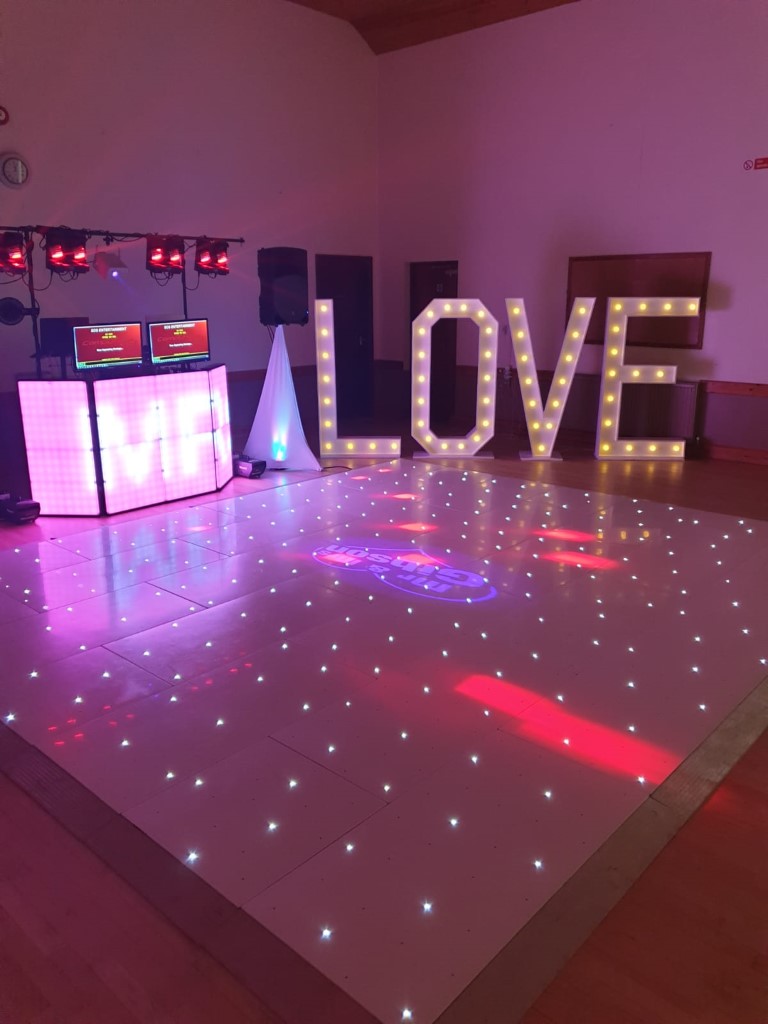 our LED-Dance floor, a dj, lights ... and love can make a small event special
#2: Go for Low-key impact guests will remember with live music
As our friends and customers know, we have a special arrangement with talented Calli Malpas, providing the very best live music for weddings when booked through SOS Entertainment.
Ok, so Calli's full-on four-piece band is out whilst the current restrictions are in place, but she also has other amazing sets which are ideal for more intimate wedding settings.
Check out Calli's Acoustic and Puttin' On The Ritz Jazz sets below – both are perfect for elegant entertainment and a special way to share the day that you've been waiting for, with your selected guests.  Over the lockdown, Calli's also become expert in producing virtual performances. Tell us what you need and we can work with Calli to organise a personalised performance, live-streamed on one of our large DJ screens, so everyone can enjoy the music safely.
#3: Make guests feel special with thoughtful extras which also entertain
Setting and decoration are always important at a wedding breakfast or reception. But somehow, with reduced numbers, these aspects take on a new priority, because you want to make the surroundings – as well as the entertainment – special for each and every guest.
Entertainment ideas and accessories which can help create this individual setting include:
SECURE YOUR DATE QUICKLY
Explore our wedding entertainment ideas and services, then get in touch ...